les saucissons
gourmands


since 1919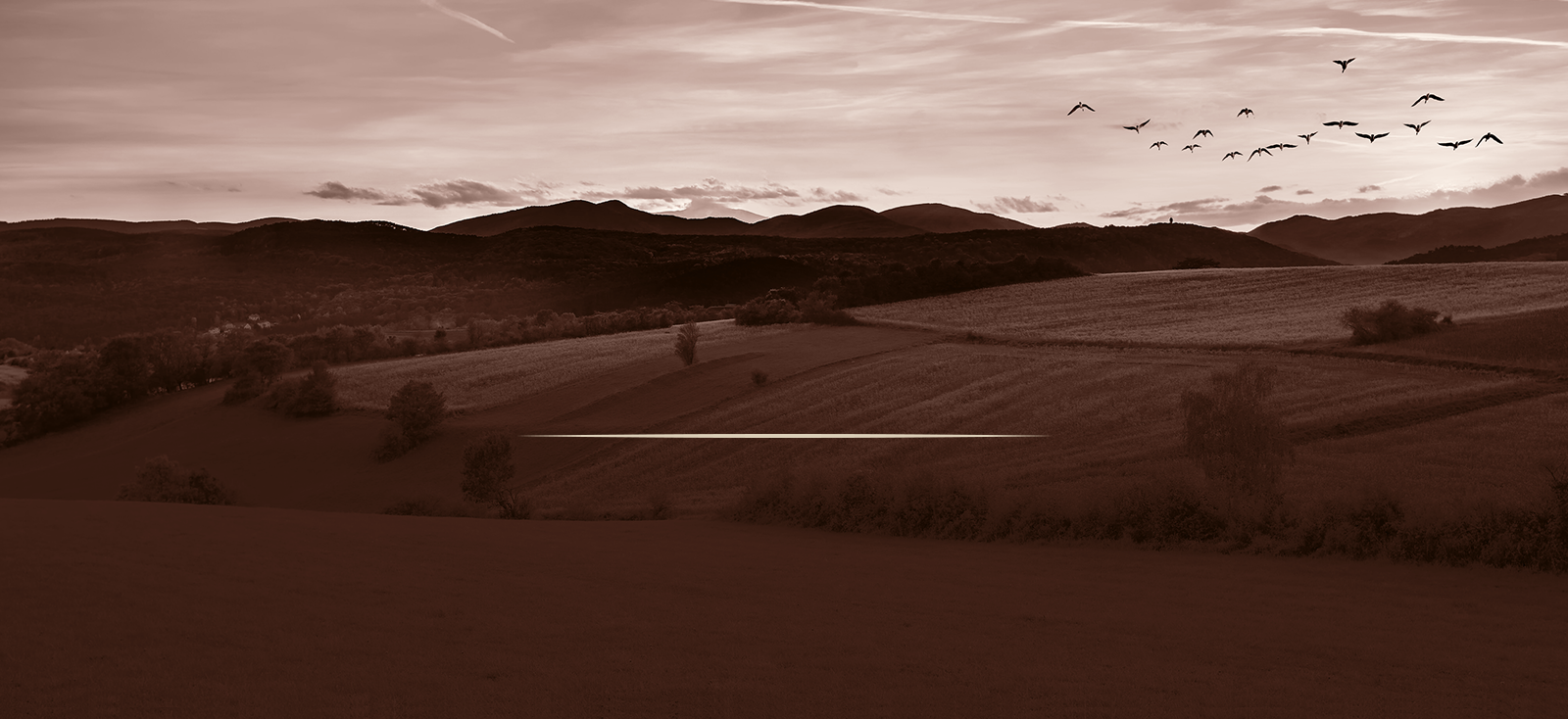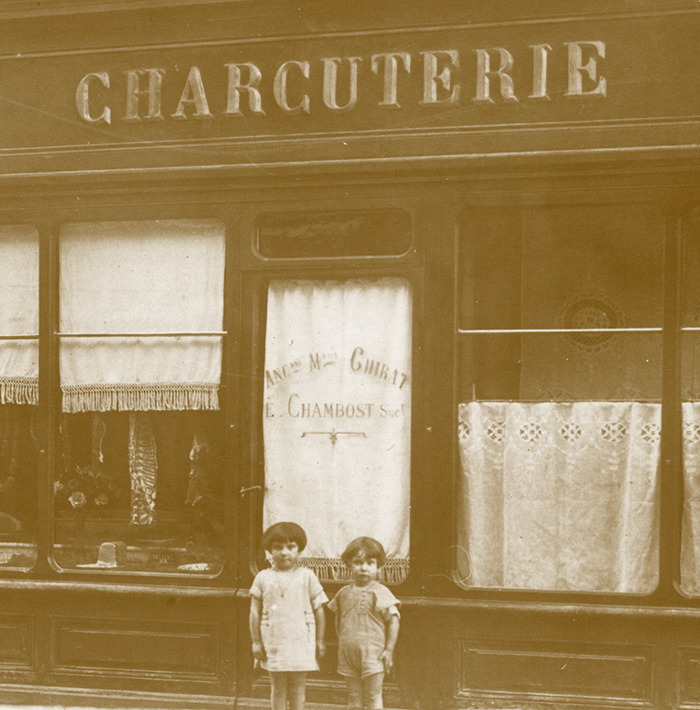 Our century-old enterprise
1919-2020

In 1919, Émile Chambost took over a traditional cooked-meat business, rue Étienne Dolet in Tarare (Rhône); better known as N 7.
In 1940, he enlarged the facilities between the two roads 'Etienne Dolet' and 'Gambetta', in order to specialise the company in dry sausage making, with a distribution that already exceeded the region.

In 1954, Aimé, his son, with his brother Pierre and cousin Robert, took over the management, to increase the quantities and cope with the growing demand.
Cramped in the city centre, "Salaisons Chambost" moved to their current site in 1985, to continue to grow, and support the innovation projects dear to Aimé Chambost. Jean-Claude took over on the death of Aimé in 1997.

The enterprise took a major turn in the 1990s and 2000s, thanks to a wide range of large pieces allowing the arrival of sliced cooked meat (charcuterie) for wholesalers/retailers and self-service.

In the summer of 2019, Jean-Claude Chambost turned a new page when the firm joined the Breton "Jean FLOC'H" Group, present for more than 50 years in the slaughtering and processing of pigs, with thirteen production units and more than 1,800 employees.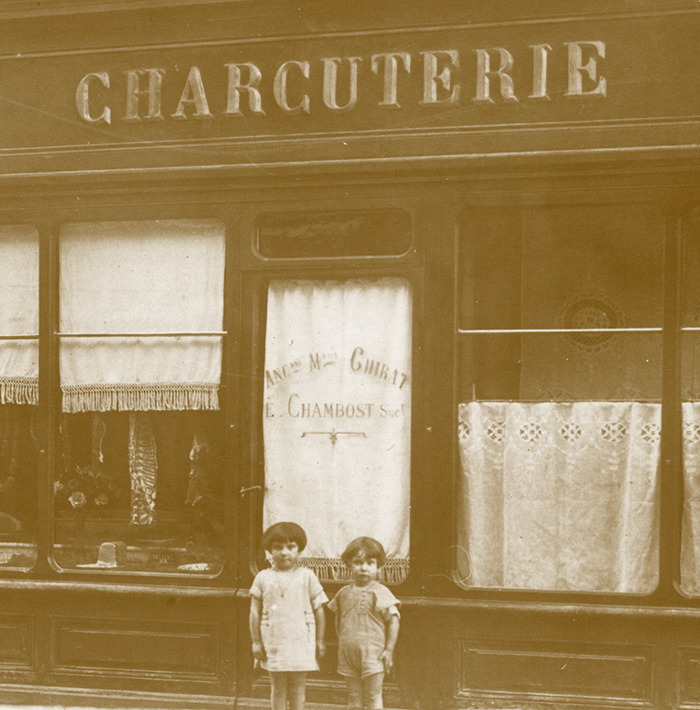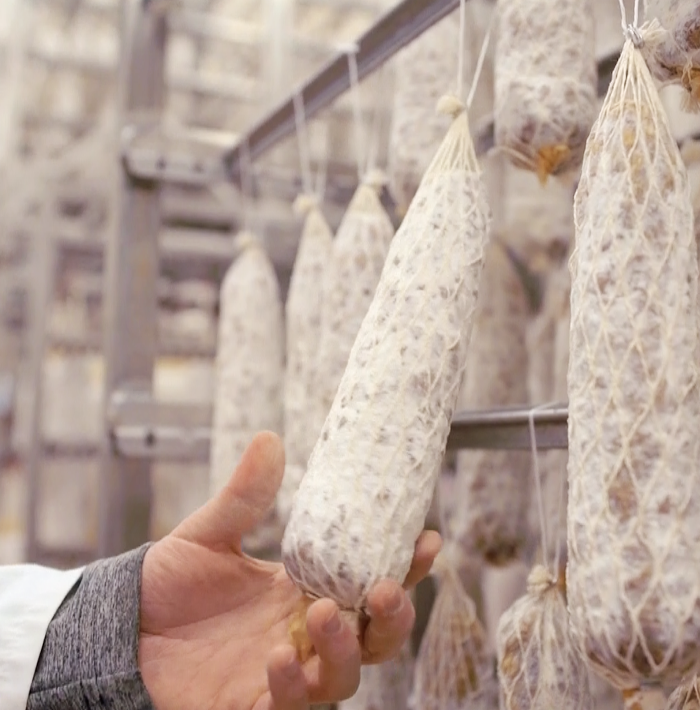 Know-how
Mastery of the key stages
Handed down for decades, the "Salaisons Chambost" enterprise know-how is seen in its choice of raw materials. This is the first step in organoleptic quality, to provide consumers with the best health-safety standards.
We select the finest, most suitable parts for our products, including the shoulder and back. Also, the traditional process is controlled by qualified personnel loyal to the company.
This allows us to master the key stages:


Mincing, shelling and mixing of spices (salt, pepper, garlic, etc) & ferments, then stuffing, especially by hand for products in natural casing.


Heat steaming ensures the formation of a harmonious blend of fat and lean.


Then, slow and gentle drying, allow us to make a product full of flavour with a homogeneous texture.
After further quality controls, the dry product will be prepared and packaged, to be delivered as soon as possible to our customers.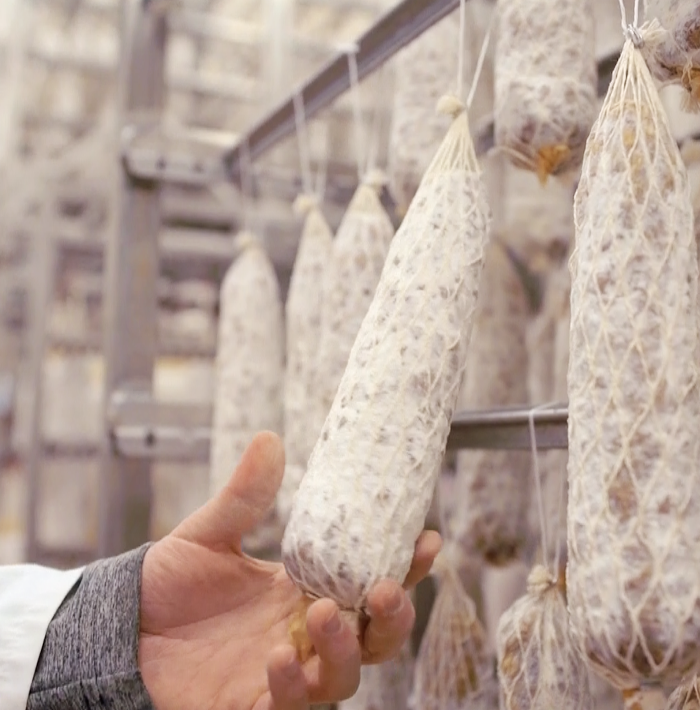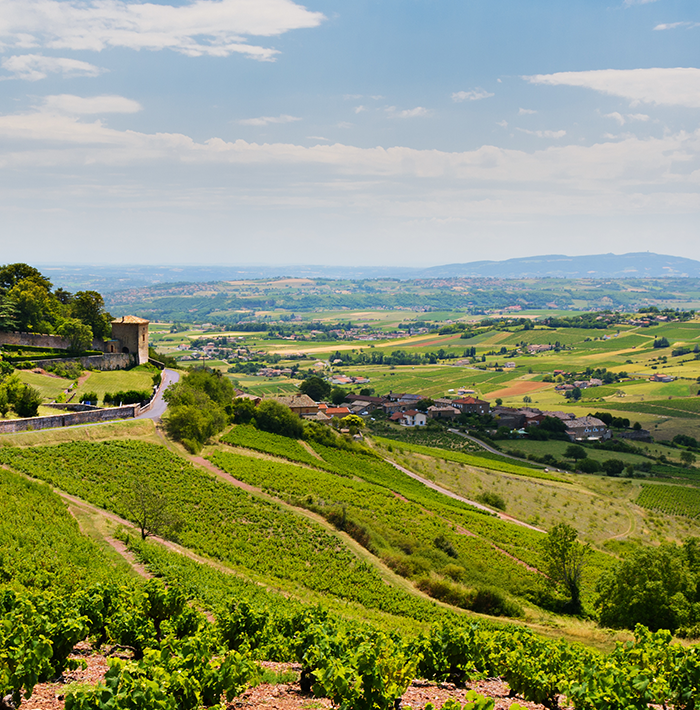 Production Site
Cradle of the dry sausage

We are here, on the borders of the mountain region 'Monts du Lyonnais', cradle of the dry sausage and Beaujolais, at an altitude of 400m, in a dry and cold climate favourable to production.

"Salaisons Chambost" has chosen to be the real specialist for Lyon dry cooked-meat products (charcuterie): we make numerous sizes/types of "Rosette de Lyon", "Jésus de Lyon", "Pavé du Lyonnais" and specialties.

Our premises extend over more than 6,000 m², with seven steam ovens, ten dryers, and a top-performance system to maintain the best technological manufacturing conditions.

Every day, the 33 employees of "Salaisons Chambost" produce a range of Lyon specialties, with an annual output of around 2,000 tonnes.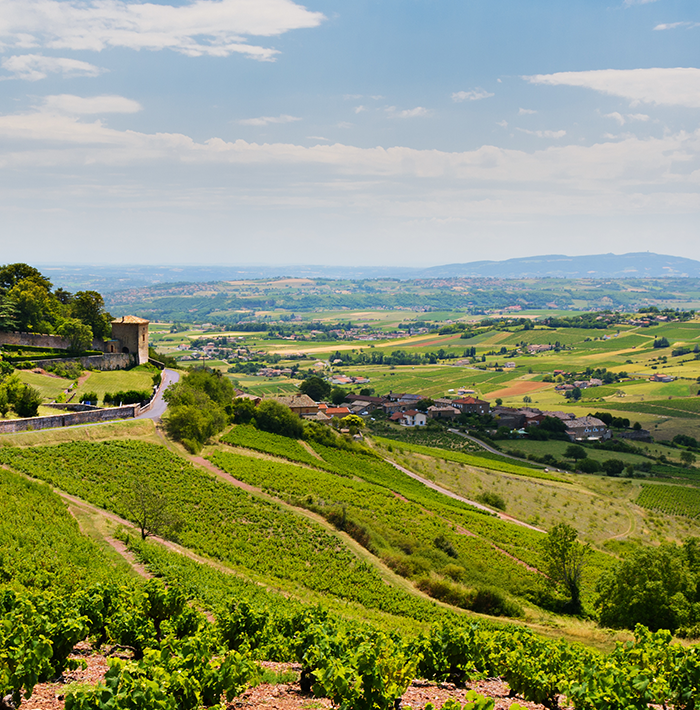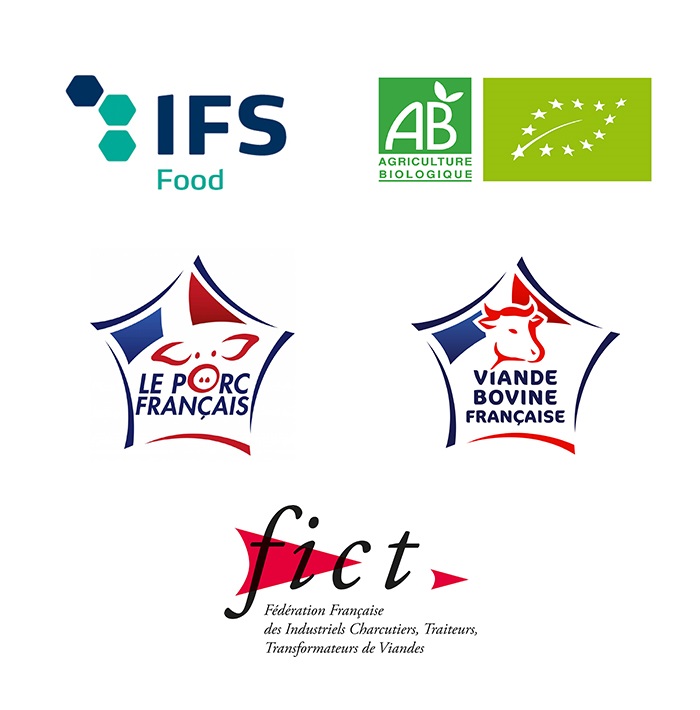 Commitments
Distinctive signs of quality
We are well-known by our customers for our mastery of processes and consistent quality. To confirm our investment in this direction, we are signatories of the "Dry Sausage Charter" and have IFS (International Featured Standards) certification for over ten years. We are also approved for French pork, French beef and Organic products. Also, in our R&D we look for innovative projects that will enable dry cooked meat (charcuterie) to meet consumer requirements, thanks to:


Products made from French meat


A wider range of organic products


Recipes with less fat, less salt or with fewer preservatives


Alternatives to pork sausages – sausages made from beef, for example


Finally, to ensure our export distribution, we are investing in the conquest of agreements allowing us to export to around twenty countries, including certain very exacting destinations such as Singapore, Canada, Taiwan and Japan.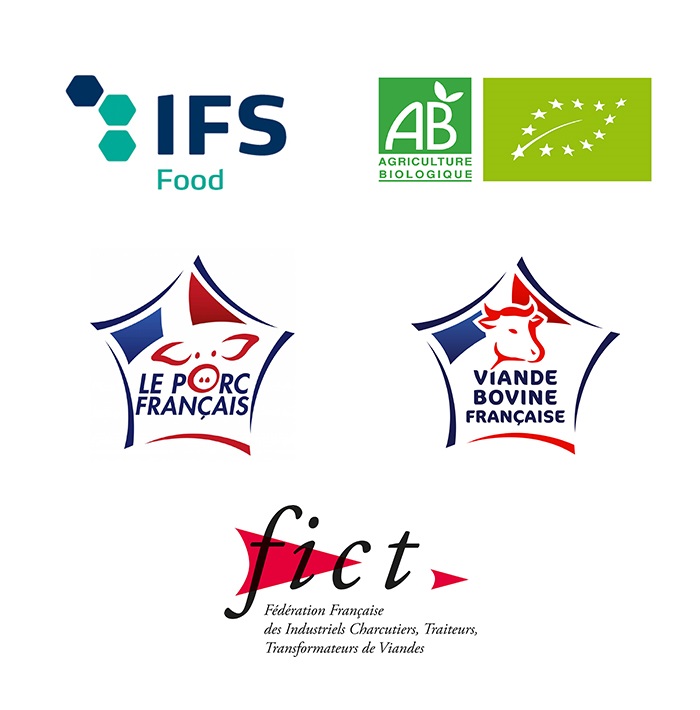 Our customers
Shared values

Our main customers are a guarantee of our quality: For decades, our main partners have been other cooked meat (charcuterie) specialists, who slice and distribute our products.

They recognise us for our loyalty in consistently delivering top-quality products, and a reliable relationship. We also work with wholesalers and mass retailers who come to us for a local, authentic and traditional product that meets their needs.

Finally, the company is actively export-oriented to ensure its future and offer an emblem of French gastronomy.

Previous

Next
Deli-Counter
Lyon cured meat

Lyon cured meat products retain a special place on the traditional shelves of pork butchers-sausage makers, whether they are artisans, wholesalers or mass retailers.
All have the possibility of a big "Rosette de Lyon" or a bridled sausage, which are mainstays of the assortment.

It is for this clientele that Chambost has been making a range of specialties for decades; based on the rigorous selection of the best cuts of pork (mainly shoulder, back fat) – ancestral recipes and human know-how, which we pass on from generation to generation.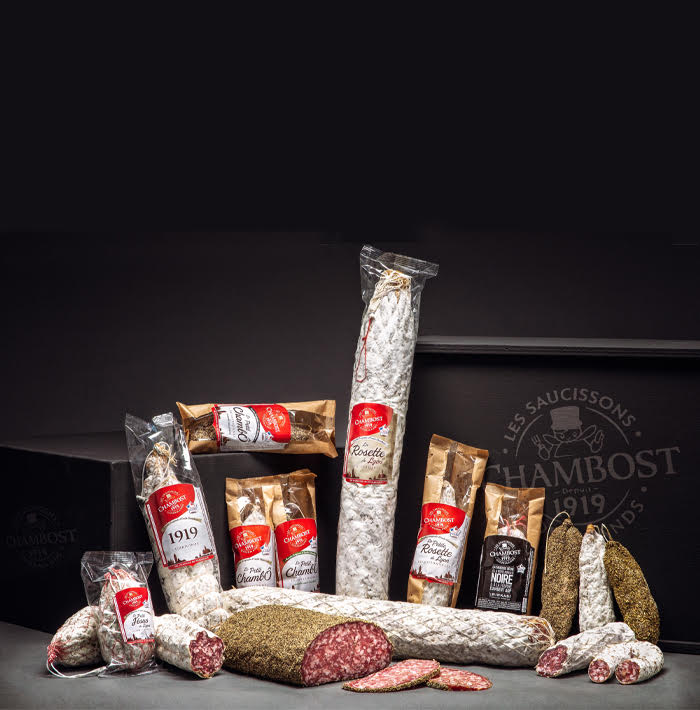 The retail little pieces
Convenient weights

To cope with customers, who are looking for increasingly accessible products, Chambost is gradually expanding its range of products in the self-service sectors.

This range, exclusively made from meat of French origin, restores all our century-old know-how in meat selection and cooking, but in weights suitable for the development of the trade – from 800g for the heaviest to 180g for the lightest.

These products are all of superior quality, hand-stuffed in natural casing, without colouring and without added nitrite salt, complying with the regulations. Thus, allowing them to claim "traditional" manufacture.
Whatever their size, our sausages remain faithful to our founder's motto: gourmet sausages since 1919!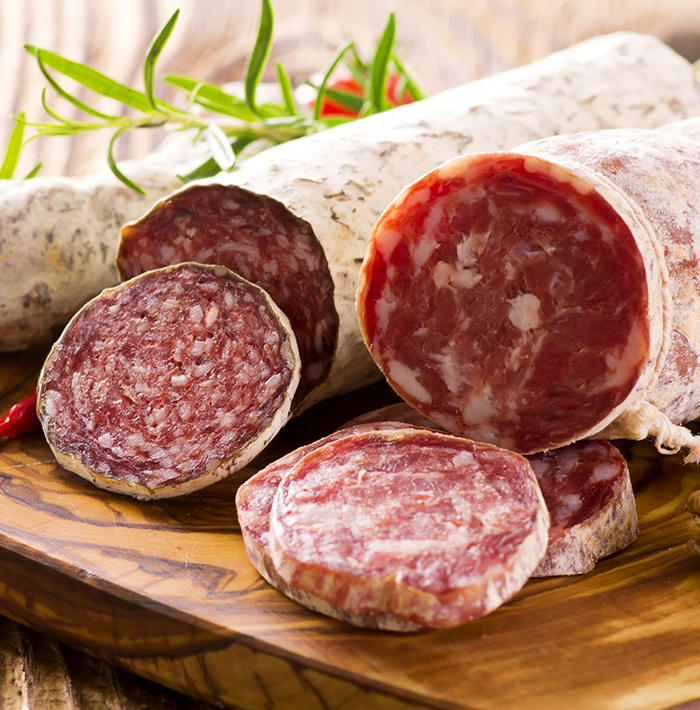 TRADITIONAL RANGE
sliced references

Backed by well-known skill in the supply of dry cooked-meat slicing bars to its customers, Chambost has integrated some of its best recipes into its range to offer them under its own brand in fresh-packaged slices.

This way, our consumers, especially in our regional cradle around Lyon, can find our pre-sliced products under our brand in local distribution (Retailers & Wholesalers).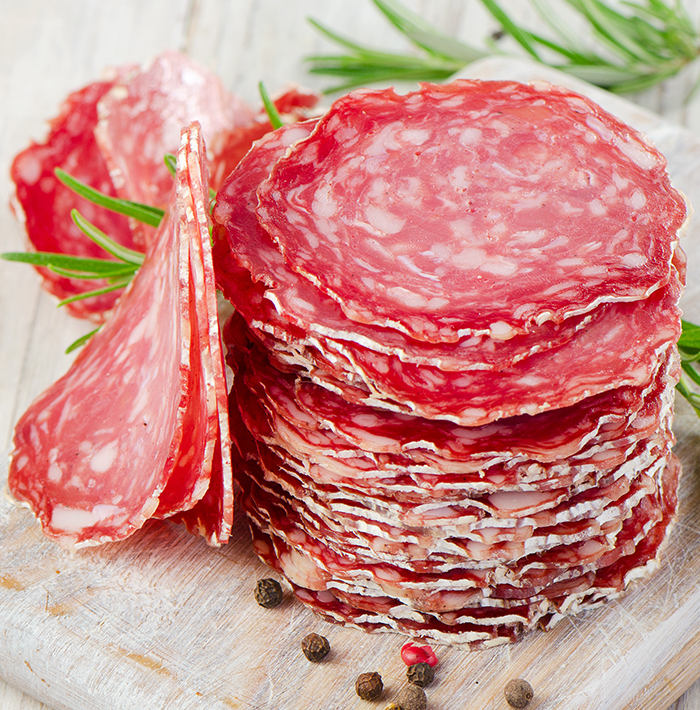 Previous

Next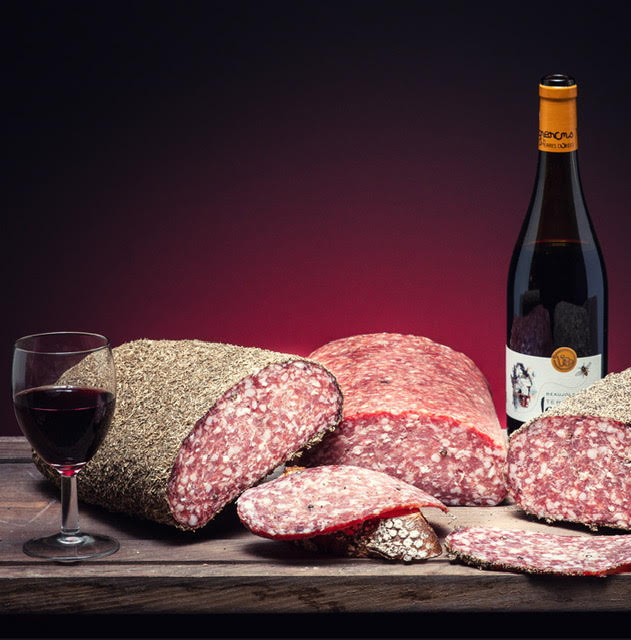 SLICING BAR
Baguette Salami

Considering the growing importance of modern, convenient & accessible cooked meat, which is therefore sliced to facilitate its consumption, "Salaisons Chambost" have for several decades acquired well-known skill in the supply of slicing bars of dry Lyon cooked meat.
"Lyon Slab" obviously has a special place in this range.

A very characteristic product of Lyon dry cooked meat, the "Lyon Slab" (or Block) perpetuates the tradition of a dry specialty with a large generous slice, giving a rather supple texture reserved for discriminating people.

This very large format requires advanced technical know-how in terms of drying, on which "Salaisons Chambost" relies to offer a product with optimal drying and uniformity from the periphery to the heart of the slice.

It is presented in an ovoid bar of about 7.5 kg, vacuum-packed, and is obtainable in a Natural version, coated with pepper (the most widespread), coated with herbs (to bring a Mediterranean touch) and finally with "Beaufort" AOP (Protected Designation of Origin), thus marrying Lyon cooked-meat skill with the cheese-making tradition of the Alps.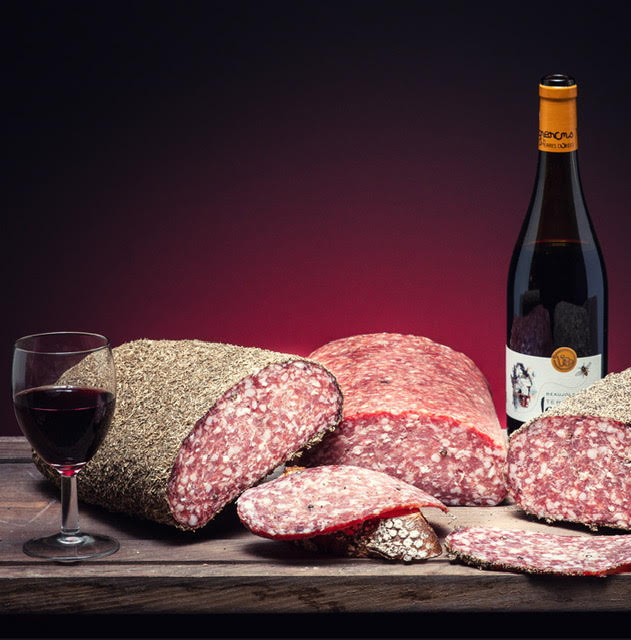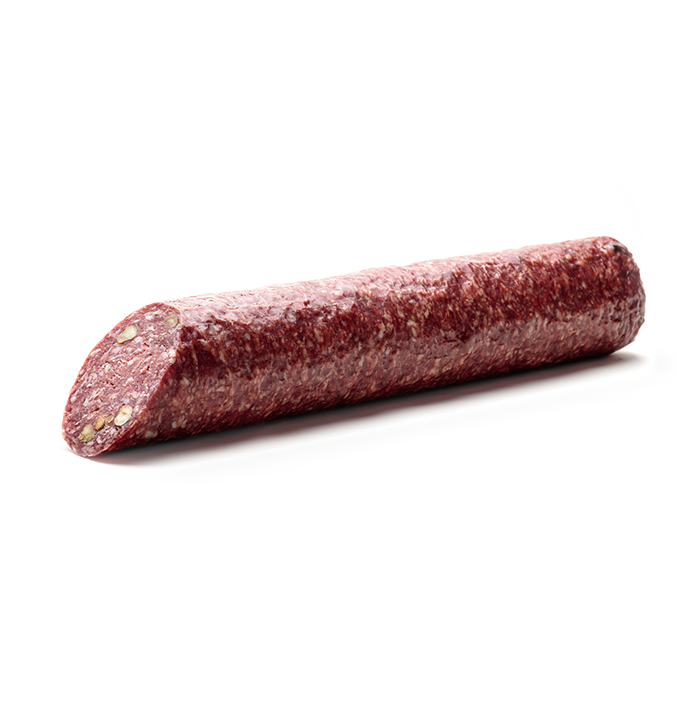 Slicing Bar
Superior Dry Salamis

A narrower format than "Rosette de Lyon", therefore a little drier. We offer our customers a slicing bar of Superior Dry Sausage, with a diameter of 75mm.

It is available in a natural version, with less fat (definitely not lacking in taste! …), but also, with inclusion of whole hazelnuts and whole walnuts.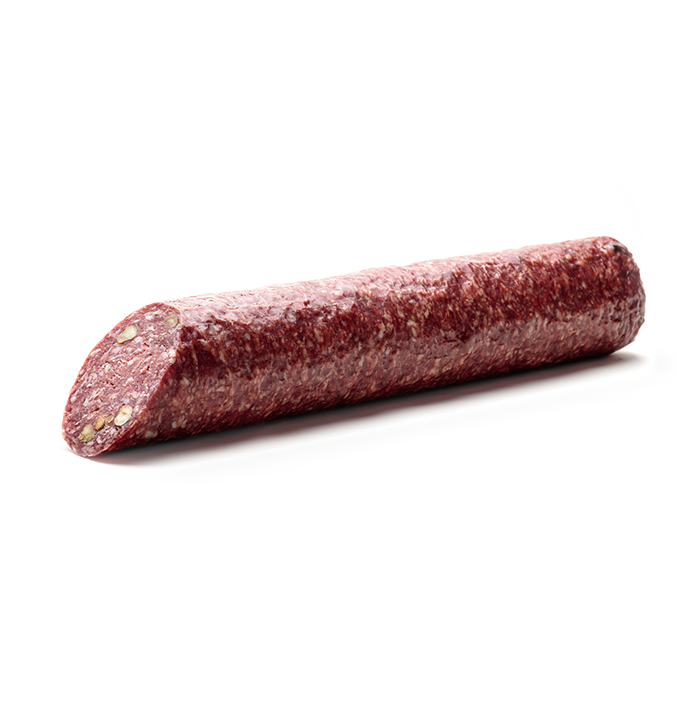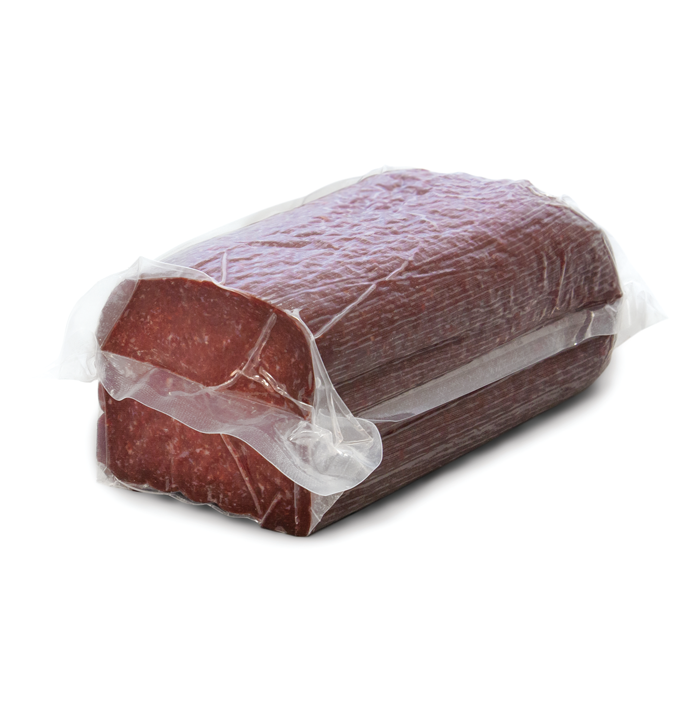 SLICING BAR
DRIED CHAROLAIS BEEF DELIGHT

Always looking for innovation in our type of products, we now offer a specialty of Dried Charolais Beef, made exclusively from Charolais French beef muscle, finely chopped, spiced and dried.

This low-fat (less than 5%), modern product allows us to respond to a more feminine clientele. Moreover, this speciality, which is easy to use when cold, is very competitive, compared with other foreign dried beef specialities.

The product is delivered peeled, vacuum-packed, in regular bars of about 5 kg.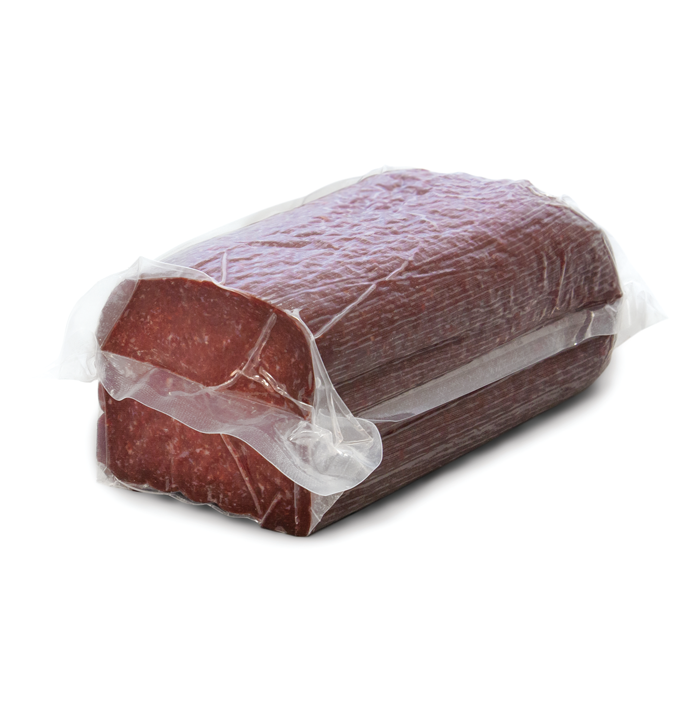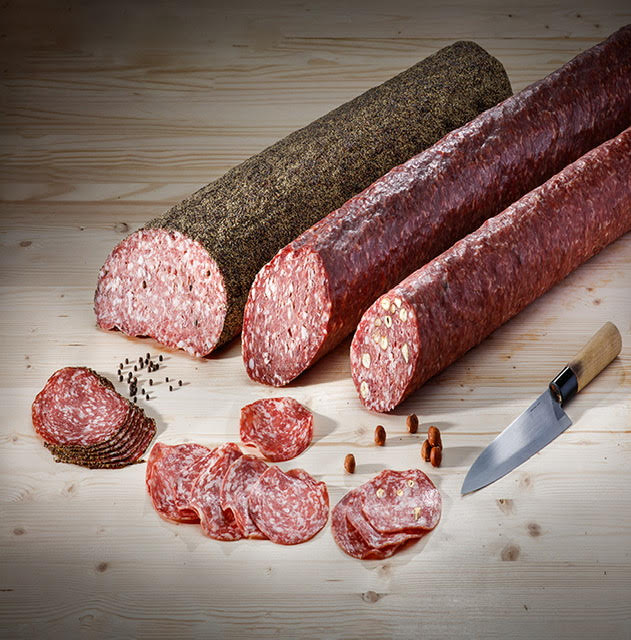 SLICING BAR
"Rosette de Lyon"

"Rosette de Lyon" remains a cooked-meat product accessible to all, both organoleptically and economically. It is with consistently reliable skill that Chambost has built its reputation and acquired the loyalty of its customers for this product.

Our "Rosette de Lyon" slicing bars are available with several origins (French or European Union pork), conventional or organic, as well as bar sizes (whole, half or quarter).

We are also able to raise manufacturing requirements (part selection and process control) to offer the simplest possible "Rosette de Lyon" in terms of composition, with a single preservative, Potassium Nitrate (formerly Saltpetre, age-old preservative of dry cured meats).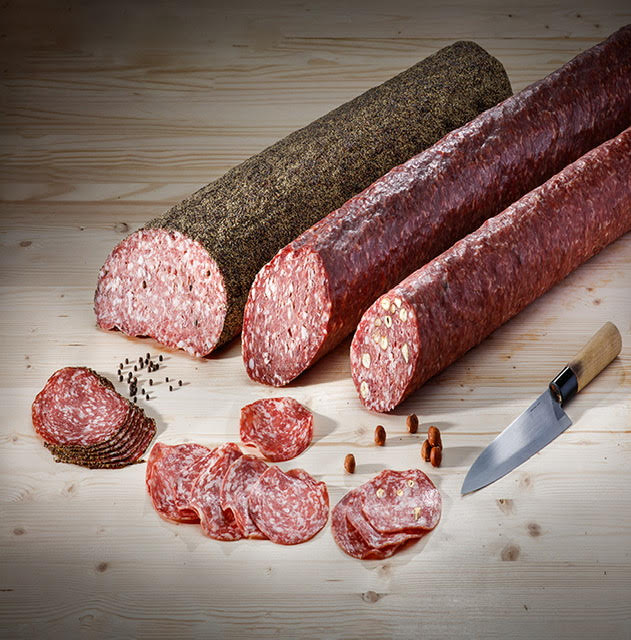 Previous

Next
ORGANIC
Natural
For several decades, local development has been very important for Chambost; whether in the recruitment of employees, the choice of consumables, production ingredients or even suppliers of machines and service providers.
It is therefore quite natural that Chambost has developed into Organic (more precisely "made from raw material derived from organic farming").
For almost 10 years already, we have a variation of the "Rosette de Lyon" recipes in a slicing bar or small organic dry sausage 180g, the latest addition to the range.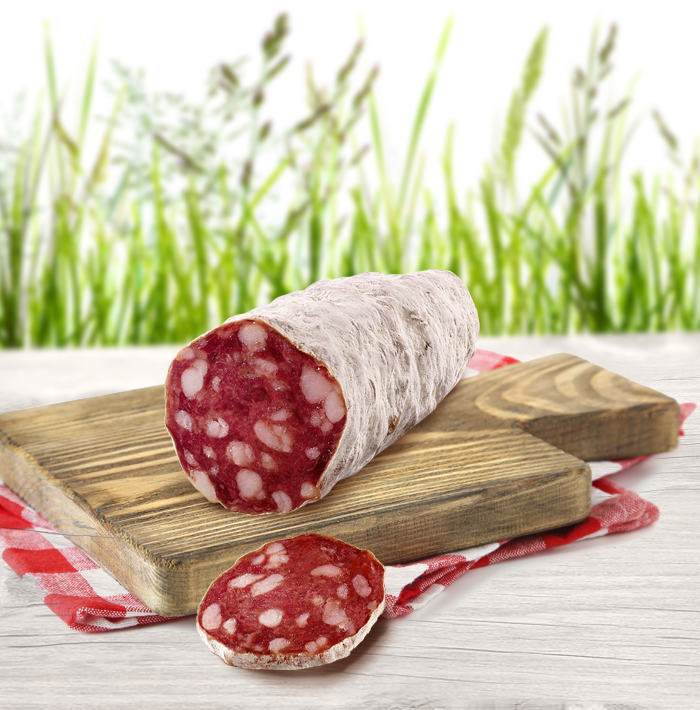 INNOVATIONS
THE CLEAN
We must listen to consumers who are demanding healthier and safer food for themselves and their children.
Thanks to the ancestral mastery of its making process, Chambost is able to offer a "Rosette de Lyon" with the smallest amount, for a raw, fermented and dried product such as dry cooked meat.
So, we have developed a Superior "Rosette de Lyon" - French pork, choosing only the healthiest parts of pork (shoulder, back belly), returning to a slower making process and using only one preservative. (The one that the Romans already used 2,000 years ago), for a good, fine and healthy product, but above all delicious!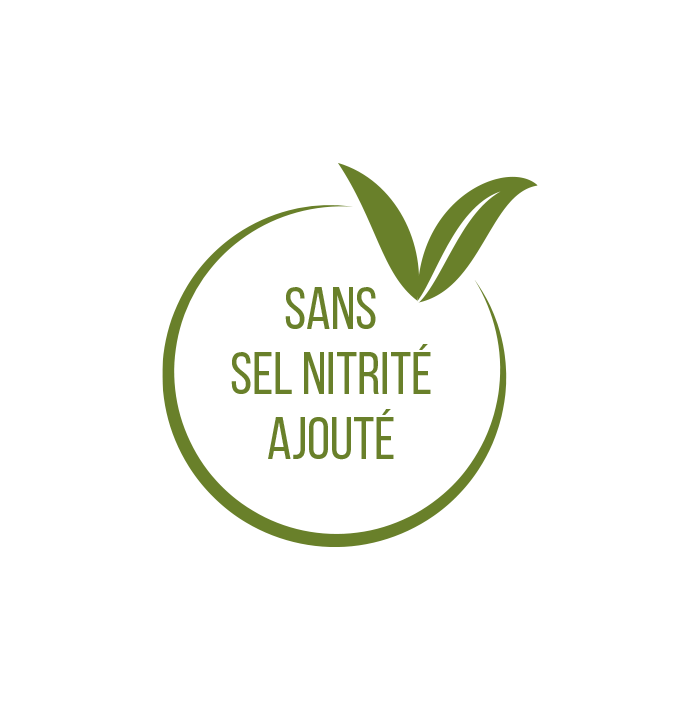 INNOVATIONS
Low fat products
It is always difficult in our business to offer a product with less fat, because it is well known that in a dry sausage, the fat gives the taste!
This is why we offer our customers who want a sausage with a reduced fat content, a recipe that is specific to us. Less than 20% fat in the finished product, but which retains the taste, texture and a real sausage flavour, for a pleasure that remains gourmet.
The product is delivered peeled, vacuum-packed, in regular bars of about 3.5 kg.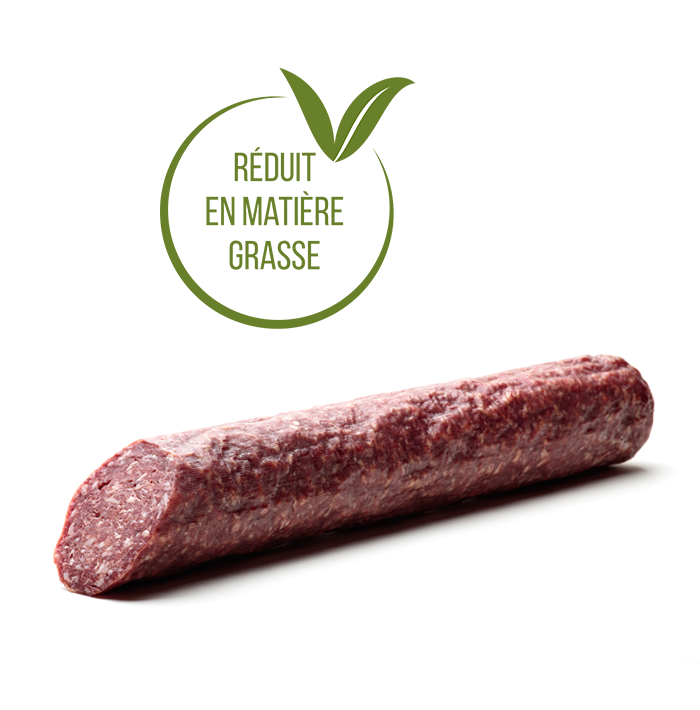 INNOVATIONS
DRIED CHAROLAIS BEEF DELIGHT
Always on the lookout for innovation in our type of products, we now offer a specialty of Dried Charolais Beef, made exclusively from Charolais muscle, French pork, finely chopped, spiced and dried.
This low-fat (less than 5%), modern product allows us to respond to a more feminine clientele. Moreover, this speciality, which is easy to use when cold, is very competitive, compared with other foreign dried beef specialities.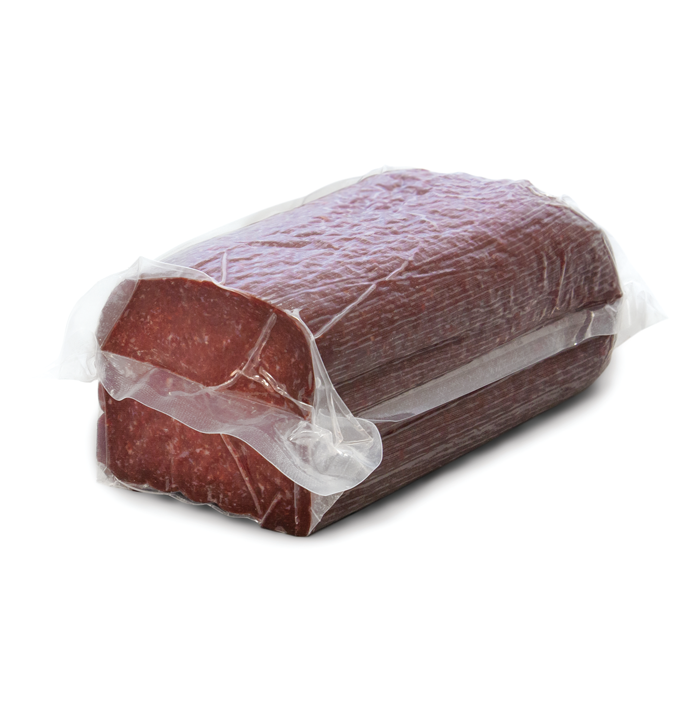 INNOVATIONS
Traditional Little "Chambô" with hazelnuts, Superior Dry Sausage – French pork – 220g
The latest addition to our range, it illustrates the ability of the sausage makers of Chambost to offer sausages in their most varied flavours.
This product is available in a 220g format, packaged in a macroperforated sachet.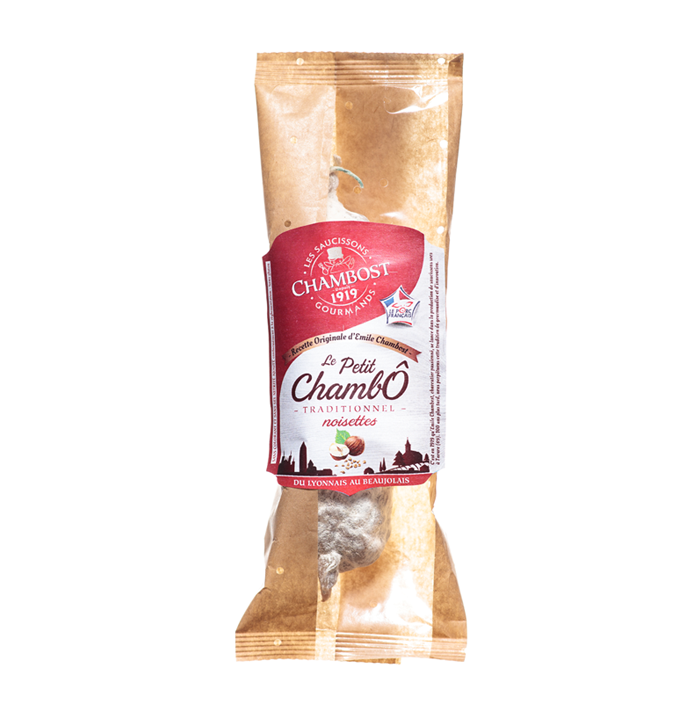 Previous

Next
NEWS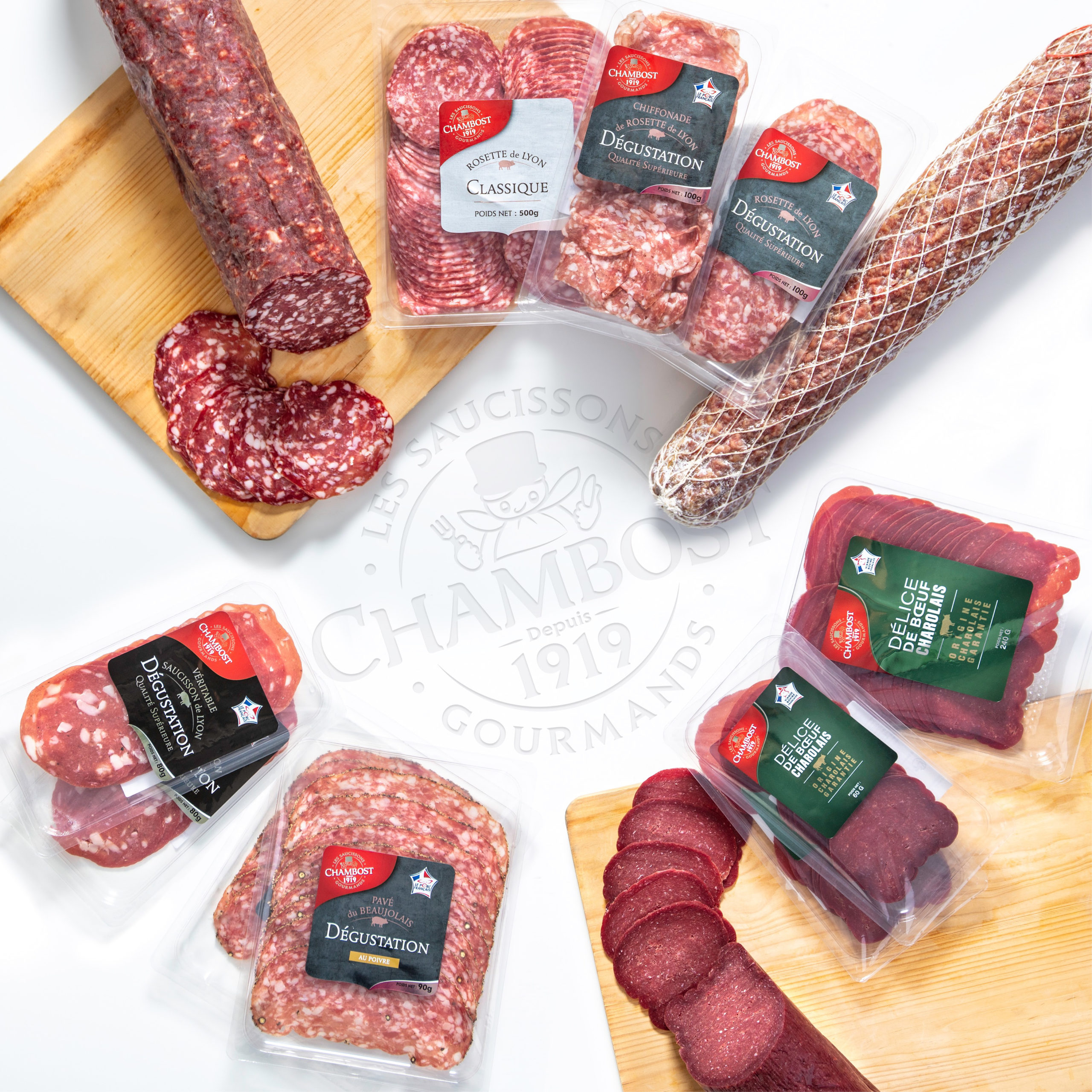 La nouvelle gamme de tranchés CHAMBOST
Enfin les spécialités de la marque comme la Rosette de Lyon, le Pavé enrobé au...



Read more >>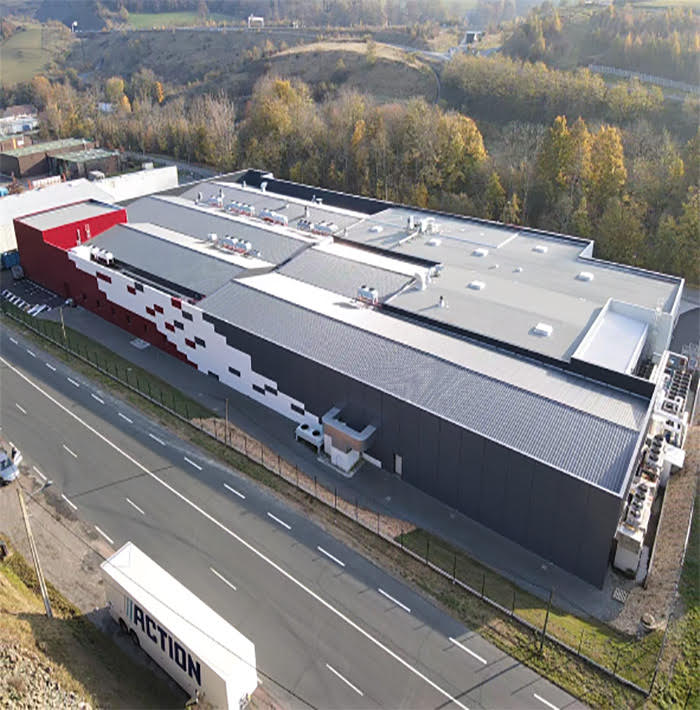 A RENEWED 100-YEAR-OLD ENTERPRISE
After 18 months of work, Chambost now has a fully remodelled production tool, enabling...



Read more >>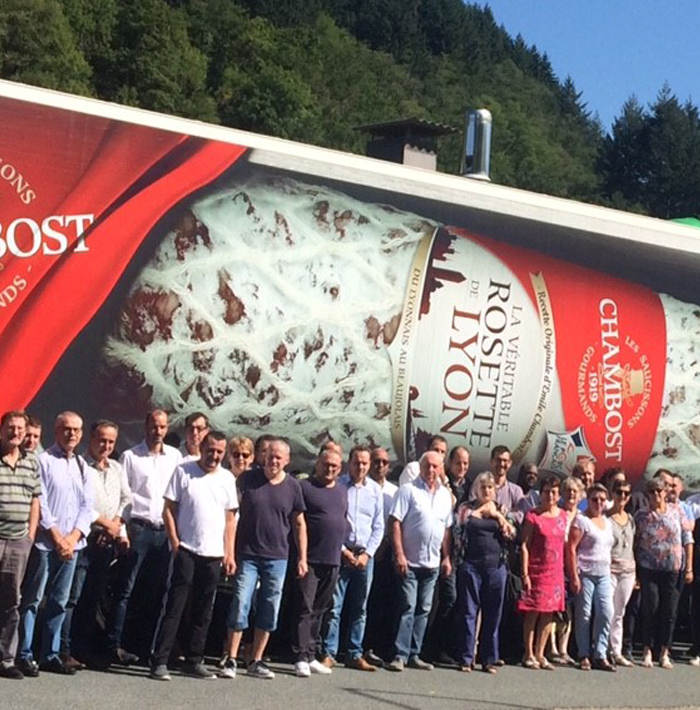 COVID-19
The "Salaisons Chambost" teams remain mobilised to continue making and supplying your products.



Read more >>